Discussion Starter
·
#1
·
We tried another walk today. :wacko: :wacko: :wacko: It was a little warm, so we only went for a short walk today.
It went Ok, but I had to put Dudley on a second leash after a while. If Dudley wouldn't keep up, Dozer would just drag him (and Digger). It worked great if they all three headed the same direction, but if they turned towards me or went side to side, I couldn't keep Dozer from dragging Dudley.
If anyone has a flat Basset problem, Dozer will make him move. :lol: :lol: :lol: :lol:
If you look at Dozer's muscle tone on his front leg & shoulder, you can see why he's my puller.
Dozer, Dudley, Digger.
But with Digger's larger rear end on the left, you would think he was my puller. :lol:
Digger, Dozer, Dudley.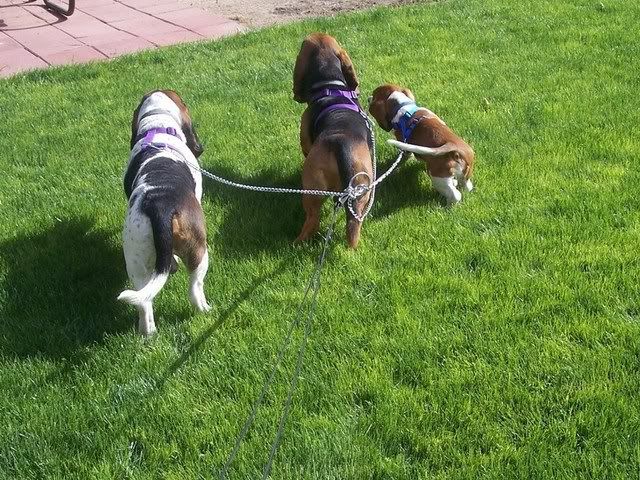 Pictured below is the triple leash I made. I used choke chains on a 3" ring for leads, and had to use two leashes, because they have a combined weight of 143 pounds. It also made it easier to hold them back when the neighbor's cat ran by.