Discussion Starter
·
#1
·
When Murraysmom put the post on about where the cards went this year I decided to retell Bubba's story with the cards since it was three yeas ago today that we sent him to the rainbow bridge. These Cards have done so much to cheer others and have had many travels over the years. This is just another story of the "power of the Basset cards".
********
Three years ago today Bubba died in our arms at the vet's office after we made the decision to free him from the pain and suffering of Lymphoma cancer. Many of you on the forum went through that terrible time with us from his first symptom on Dec. 6th until we sent him on his final journey to the Rainbow Bridge on Dec. 20th. His seven years with us were far to short for such a wonderful, loving, companion, camping buddy, and faithful friend.
His story went on after then, because of the Christmas card exchange that year, 2005. Bubba's card endend up in the hands of little Charles Stanley, a patient in the same hospital as Corvuss's wife. Her husband had been bringing the cards to the hospital, and she decided to share them with the children. Bubba's card was given to Little Charles who held it tight and said, "He's black like me," and smiled. Little Charles Stanley later died in the hospital with Bubba's card on his bed. His mother later contacted Corvuss and told him that the card was buried with Little Charles, because it meant so much to him his last days at the hospital.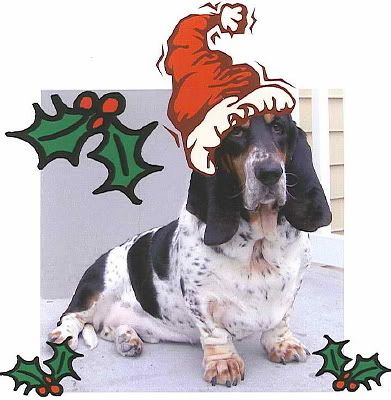 Bubba's picture in the card that year.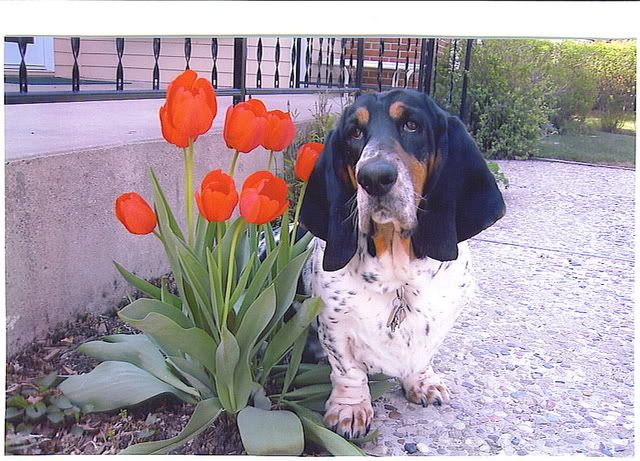 Bubba and the tulips in our back yard.