Discussion Starter
·
#1
·
MOOSE here: I have BIG news. Oh the injustice...you just won't believe this. Some of you may be aware of the other day when I was banned from my house for peeing on the carpet? Well, ok, I paid my debt to society. But YESTERDAY was a whole new story!
The other day my slave, who we shall call 'Sandy' , had the nerve to once again block our dog door so that we had to stay outside all day. Something to do with cleaning...
Anyway, we were good little dogs and she finally let us come in with her, when she opened the back door that evening. That was all well and good, HOWEVER, she failed to open our doggie door UNTIL THE NEXT DAY AT 10:00 am!!! She FORGOT! And I even barked at her before she went to bed. She said, "SHUT UP, MOOSE!'
That's what she said, SHUT UP, MOOSE!"
Bo and I really tried to 'hold it', but I gotta tell ya, there were a few puddles. When she finally came out to the living room to greet us, (yes, THIS is the day she chose to sleep in) she saw the puddles. Man I thought I was done!!! But then she looked over and saw that the doggie door was closed, and she hurried up to let us out, cause we both really had to poop!
Then when we came in and she was finished with her bissell shampooer, she gave us hugs and kisses and said she was sorry over and over again. Then we each got a bully stick!
That's my story and I'm stickin' to it! Whatdya think of THAT???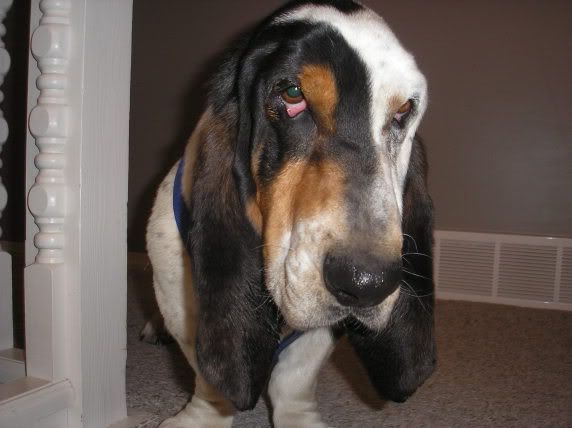 Moose