Simone,
Our Basset, Bogie, who will be two in April, has had two rock eating incidents, both ending with surgery to remove a lodged rock. The first in June of 2006, where he swallowed two rocks while we were camping. One passed the other was to large, and he had to have surgery. We thought they might have been tasty because they were under the picnic table where people had dropped food and had cooked.
The second was in Sept. 2006, and he was in our back yard which we had scoured for rocks. Then came the cable company to bury new cable. They dug near the house foundation and dislodged concrete pieces and rocks that they threw in the neighboring bushes along with a chunk of donut and a pop can. We had no idea the stuff was in the bushes, but Bogie found it and swallowed another rock and another surgery.
The vet told us that prevention was the key to rock eaters and suggested a basket type muzzle. This way he could still pant and bark, but be protected. We've searched the internet, other forums, etc. for information, and it seems some dogs just do this. The vet told us she had done several surgeries on repeat offenders. We found some thoughts on diet, anemia, etc. on the internet, "pica" like in humans, but the vet did blood work on Bogie and said everything was fine.
We ended up getting an "Italian Basket Muzzle" #99271 from KV Vet Supply via the internet. It's made of polyethylene and has adjustable leather straps. It works really well. We put it on Bogie when we cannot be in the back yard with him or if we are somewhere and can't watch him closely. A real bummer for him, but he has adapted. Tough in the beginning until he got used to it. He tried to rub it off, and hang it in the bushes and pull it off. We do not walk him with it on. Here is a picture fo Bogie with the muzzle on. The neighbors call him our little hockey goalie.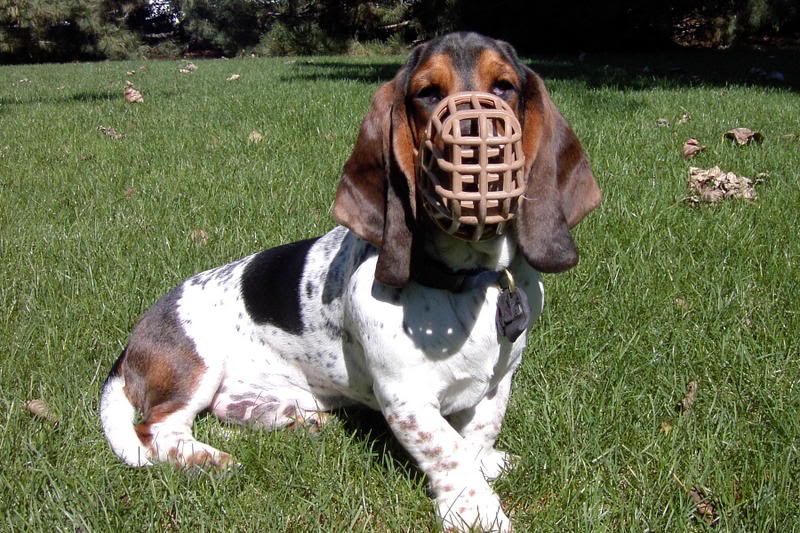 Good luck Simone. I'll be glad to answer any other questions and help any way I can.
Connie