She isn't anywhere as skinny as she was when I got her, but she is still "ribby" and I would like to have some more weight on her! Other than the health
My quess is you have a very unrealistic Idea what the ideal whight of a puppy is. A puppy should be ribby. To much weight to soon can lead to a whole host of orthopeadic problems.
see


Dog Diet Do's and Don't's
 ​

According to Dr. Tony Buffington, Professor of Clinical Nutrition, Ohio State University College of Veterinary Medicine, your puppy can be fed a regimen of specific caloric intake compared to his body condition score (BCS), using a simple one to five scale, from overly thin to obese. Using manufacturer feeding recommendations as an initial starting point, feed your puppy to a score of two and maintain this weight until he's fully grown. Feed whatever amount is necessary to maintain a BCS of two during the growth period, realizing that dogs have varying growth rates and activity levels. Once his adult stature is achieved, you may allow him to reach a score of three.​

Feeding during growth & develop habits: Timing and training, watch the dog not the dish!

...

2 = Thin - Ribs easily palpated and may be visible with no palpable fat. Tops of lumbar vertebrae visible. Pelvic bones less prominent. Obvious waist and abdominal tuck.


Optimal feeding of large breed puppies
the diet is one factor that every owner can control. Several orthopedic diseases of dogs can be precipitated by improper feeding practices during growth. Large breeds of dogs are predisposed to these problems because they have the genetic potential for excessively rapid growth. In rapidly growing, large breed puppies, maximal growth, and therefore increased body weight, can cause stress on the immature developing skeleton. Large breed dogs have decreased bone density compared to smaller breed dogs at this stage (Dammrich, 1991). Additionally, fast bone growth results in structural defects of bones that are in turn unable to accommodate an increased body weight (Dammrich, 1991).

...

In contrast to protein, excessive calories and inappropriate amounts of calcium have both been shown to negatively influence optimal skeletal development in puppies. While overnutrition in adult dogs leads to obesity and can lead to serious health problems such as cardiorespiratory disease, we recognize other problems in puppies that result from the same practice of overfeeding. It is necessary to feed the puppy enough to allow for controlled growth, but it is equally important to avoid overfeeding. Many people believe that a round puppy is a happy healthy puppy. However, maximal growth is not optimal growth. Adult size is principally influenced by genetics; however, the time​

to reach adult size can and should be controlled by proper nutrition. Excess calories can predispose large breed puppies to developmental bone disease, including hypertrophic osteodystrophy (Dammrich, 1991).

...

The goal is to keep growing puppies lean at about a body condition score of around 4 on a scale of 1-9 (a score of 1 is emaciated and 9 is grossly obese). You should be able to easily feel the ribs. Study drawings and complete descriptions of the desired body condition. A common body condition scoring system is provided at the following site:

Understanding Your Dog's Body Condition | Purina.com

. One very general suggestion is to provide an amount of food that the puppy can eat in 10 minutes three times a day.
Most individuals perceptions of what an ideal basset should look like is on of an overwieght to obese dog.
some examples of not over weight dog note coat density, lighting and positioning all have an effect on "visability of ribs" the first two photos show this dramatical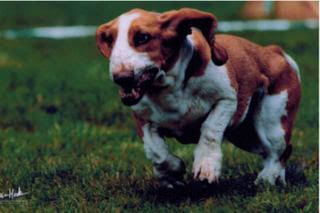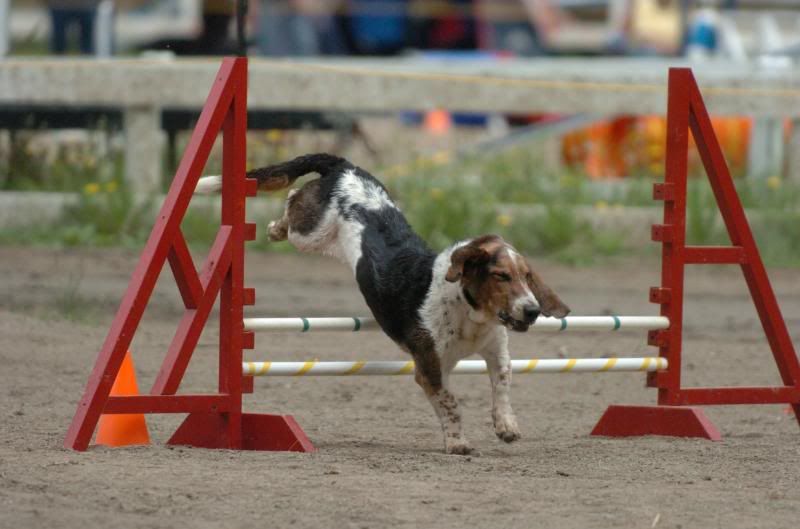 Do not Fixate on the ribs for acessing weight. They are only one aspect and on of the least effective areas to use to access weight. Personal I am deffenately over weight and my ribs are quite promenient. It takes the dog to be considerable overwight before palitable fat accumulates on the ribs.
see
Corpulent Canines?
for a more well raounded approach to accessing weight.
Purina® Study Confirms Link Between Body Fat and Chronic Health Conditions
Other Purina research found that most owners couldn't accurately assess their dogs' body conditions. When owner and expert scores were compared, only 28 percent of owners characterized their pets as above ideal body condition, while 79 percent of the experts scored those same animals to be above ideal body condition. Dr. Larson says this gap is serious because pet owners are not likely to recognize that their pets are overweight and even moderate excess body fat can lead to problems.
elp Extend Your Dog's Healthy Years