Discussion Starter
·
#1
·
Hubby was in his lounge chair, and Bogie wanted to share. We thought these pics came out pretty good.
Can I "PLEASE" share your lounge chair?
OK! I'm halfway there!!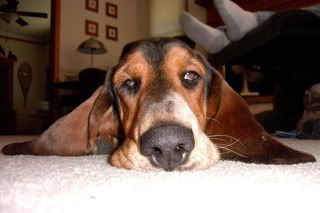 Oh well, I guess the floor will have to do.
But, you guessed it. Bogie did get his way. Bassets always do. Those pleading eyes will get to you every time.
Sshhhhh!! Bogie is sleeping!!
Aroooos from Bogie Carter!!!