Discussion Starter
·
#1
·
When I moved into my neighborhood in 2001, boy was I surprised to see the guy across the street with two basset hounds! A couple years passed, and he lost one to old age. He then ended up taking in two more that needed a home. Now my neighbor is unfortunately in hospice care as he found out he had cancer just a few months ago. He was the primary caregiver to his 3 bassets; his wife is not in good health & can only keep the one female that they originally had. They need to find a home for these two, together.
I felt bad about his situation and also felt bad for the dogs, so I am trying to help them. My husband and I talked a lot about possibly taking these two dogs but we just adopted a dog from a stray rescue organization (we actually get her Friday as she was getting spayed & I had to work around volunteers schedules and get her on a weekend). I only hope that there will be a home these two can go to.
They live west of Cleveland. I know it's a long shot but if anyone knows any way to help these dogs, please let me know. I called Ohio Basset Rescue. I am sending them a picture and bio to put on their website, but the lady on the phone basically told me it's a slow time and finding a home for two is difficult... really bummed me out actually.
Anyway, here are Miles & Millie. I had two pictures of them with José (ATB) and the other basset. Miles is probably Millie's son but no one knows for sure. They are very sweet, Millie is always wanting to be by your side. Miles is the one who barks at strangers.
Lisa
Miles & Millie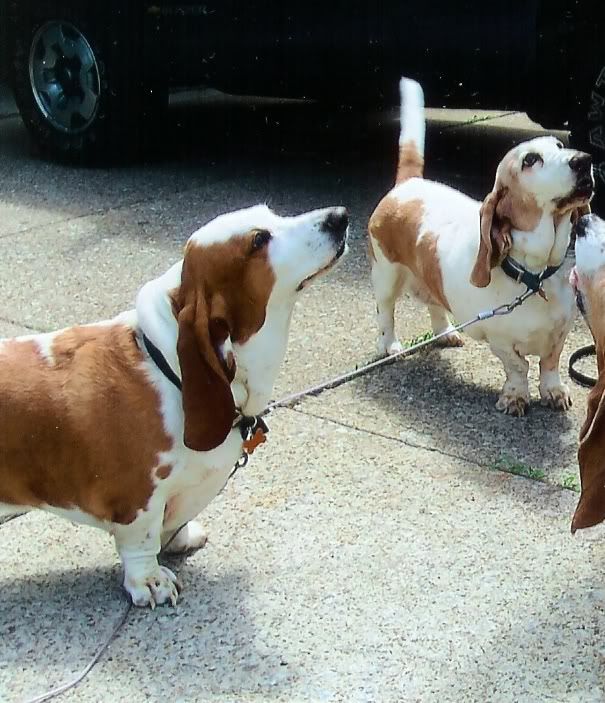 Millie & Miles (w/the top of Josés head)