Discussion Starter
·
#1
·
We had such a busy weekend last weekend. On Saturday we took Molly to Hinkley Dog park. It was the first time we'd ever been there. They're were SO many dogs. She had a ball. Since we were so close we decided to go back to Portland Lighthouse to walk the trails.
Sunday we spent the whole day at the beach. Needless to say, Molly is still sleeping it off!
Here are a few pictures from our weekend:
Daddy and Molly at Hinkley Dog park.
We had to fish her out of the water on several occasions. People were throwing sticks out on the pond and their labs would jump in and get them, so Molly decided to try it! Boy did she get a surprise. My husband had to jump in and fish her out! Even after that, we couldn't keep her out of the water.... she loves it!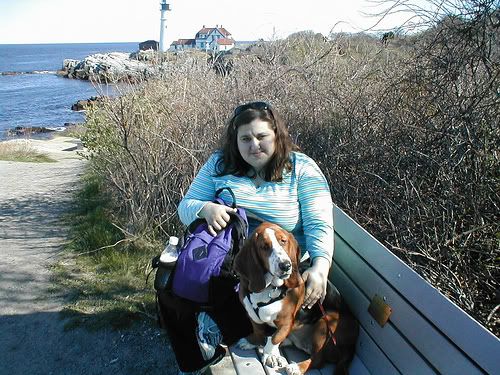 Molly and I at Portland Headlight.
This used to be alot easier for some reason.
Having a drink before our walk on Old Orchard Beach
Isn't Molly's little bottom so cute?
We had to
carry
her inside
Tired
little bassets, are
good
bassets!