Discussion Starter
·
#1
·
and I missed most of it....
I got home last night, and took a flashlight back to the neighbor (Miles searching) and stood there talking to him for a few minutes. I came back in the door just in time to hear the tail end of a loud ARRRRRRRRROOOOOOOOO....I couldn't believe it....5 years and I didn't think she'd ever done it.....
I bought a Sony digital video camera last night (finally...), so maybe I can catch it again!
Here's some pics of the kids playing in the yard last weekend..while "we" were putting in a flower bed.. (that I had to cover last night...actually had ice in their water bowl this morning..)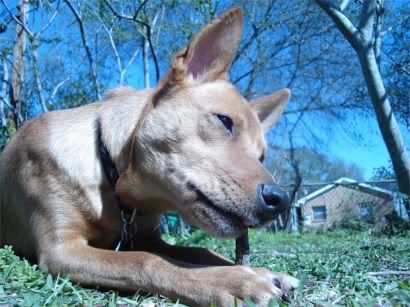 (and I wonder why he keeps having to go to the vet for tummy problems....)
and here is "our" flower garden...if I catch those two digging in it again.....
(the pics look strange because the camera was on a weird setting..everything is tinted blue!)