Discussion Starter
·
#1
·
I took Chloe in for her annual check-up and she had gained a few pounds (just like her mother). She doesn't get a lot of food per the vet's instructions -- a little more than two cups a day, plus treats (well, NOT just like her mother). The vet asked me, "Has she seemed depressed or extra sleepy?" I just kind of raised my eyebrow and she answered her own question, "Oh, it is probably hard to tell -- she is a Basset and she is 10 1/2 years old!" Come to thnk of it, she has been taking a lot of naps lately...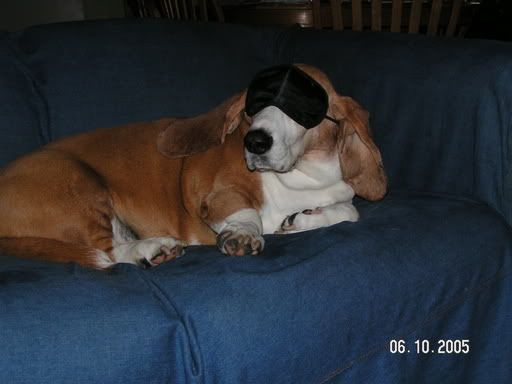 I had her tested for hypothyroidism and she tested positive (just like her mother). The vet tech didn't take the bait when I asked if I could just share medicine with Chloe -- mine is cheaper and I bet it is the same stuff! :roll:
It was a rough vet check-up for Chloe in general. Her seasonal allergies are acting up -- she had a secondary eye infection from all the irritation and one of her ears was all gunky. Poor thing! We battle it every year in the spring.
She goes in for a re-check in a month. I hope the medicine helps her feel better (Just like her mother). Maybe I can actually feed her a normal amount of food!
Colleen