Hi and welcome to the forum. It's a great place for Basset lovers with lots of wonderful posters, and tons of information can found on Bassets through the search engine or you can ask questions here. Lawson is a beautiful guy, and we look froward to hearing more about him.
We have Bogie, there are two Bogie's on the forum, so ours is Bogie Carter. Bogie is an almost two year old (April 21st) neutered male tri colored and weighs 47 pounds. He keeps us laughing with his antics, and keeps us walking in spite of the very cold temps and snow in winter in South Dakota. He is a wonderful companion, and loves children and people, long walks in our neighborhood park, and when you say the word "ride" he's at the door ready to go, especially in our camper.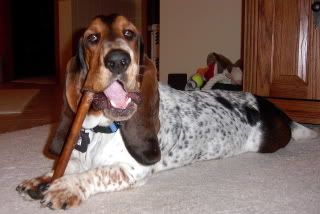 Here is Bogie with his favorite bully stick.