Cherry eye is the prolaps of the gland in the corner of the eye. When it does so it is possible for it to go back in place but it is very rare
Cocker with cherry eye in both eyes. The third eye lid goes by a number of other names as well . haw and nictating membrane. It is supose to be promenent in the basset.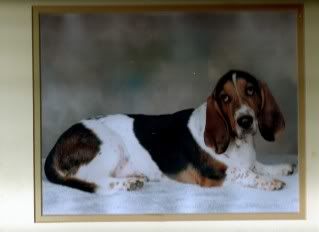 toughy has a prominent haw (red area) more porminent than many because of the droopyness of his eyes. this is normal, not it is flat the gland in the corner is not popped out like in chery eye.
There are some condition that will cause the third eyelid not to retract full leaving it to cover part or all of the eyeball. These include allergies, dry eyes and glaucoma which is an eye emergency