Discussion Starter
·
#1
·
We brought our new puppy Abby home this past Saturday. I have many reasons for wanting to crate train her, but the most important is to assist housebreaking. I've been researching crate training and found some conflicting opinions regarding how to approach it.
Basically, her crate is left open during the day for her to nap in whenever she wants. I'm a stay at home mom, so I have no reason to lock her in it except for a short period in the morning and afternoon when I bring/pick-up my daughter from school. I'm keeping a hawk's eye on her during the day, and she's only had one accident in the house so far. I've been bringing her out after each nap and after she eats and anytime she appears to need to go in between.
In the evening I feed her again around 6:00. I usually have everyone and everything settled in the house by 9:00, so I spend about a half hour playing with her to wind her down. I then take a few minutes to brush her, one more trip outside and then it's time to go to bed.
Here's where I'm at a loss. During the night, she wakes up about every 3 hours to go potty. She will cry, and I will get up take her outside to make and then put her immediately back to bed. There is no play time involved, just a bathroom break. I was fine with this routine, however my sister in law (who is a vet tech) told me there is no reason she should have to go out at night. She seems to believe that I'm going to install bad behavior in her by allowing these bathroom breaks during the night. She said it would take a few nights, but I should let her cry and only allow her out once we get up in the morning.
Ok, so maybe I'm humanizing my dear Abby, but I don't think anyone should have to hold it all night, especially when they are so young and their bladders are so tiny. I know there are nights when I wake up for a bathroom break, so why wouldn't I expect her to? Also, I want her to feel that her crate is a safe place for her to go. So, if I leave her crying in it all night, doesn't that suddenly make it a "bad" place to be?
I obviously don't want to start a pattern here, nor do I want to allow myself to be manipulated into "pretend" potty breaks in the future. Everyone knows that bassets are very smart, and I'm sure that it won't take long for her to realize that she can get out of the crate at night by crying. It seems that I may be dealing with a situation of "which is the lesser evil?"!
So, for all you crating experts out there, should I change the routine? Am I installing bad behavior in her by allowing these nighttime breaks, possibly leaving myself open for future issues?
Thanks in advance for your help!
Jen
Edited to add a couple of pics of her napping in her crate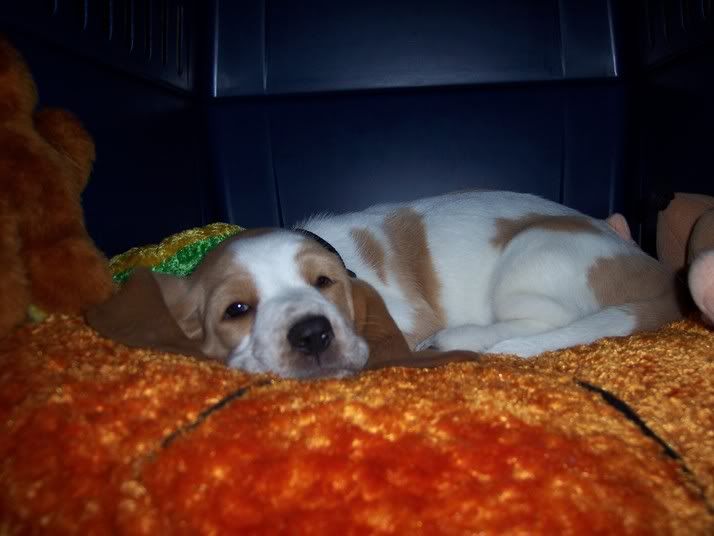 "Mom!!!! Leave me alone, I'm napping"
Ahhhhh......sweet dreams!