Discussion Starter
·
#1
·
Since there has been some discussion on ramps lately we took pictures this morning of the ramp that my husband made for Bubba, and now Bogie is using it. He made two, one we keep here at home for use with our SUV's, and one we keep with our RV.
He made them using a 1"x12"x60" pine board. On the back side he placed an extra piece to use as a stiffener to keep it from flexing when Bogie walks on it. We used two spongy type bath mats to cover it, and they give great traction. He attached them with screws using large washers under the screw and just wrapped the extra around the back. They work great and Bogie does great going up and down them. Bogie rides in the back seat so we have one side of the back seat folded down so he can just walk there, and then we just slide the ramp inside. If you needed to have a folding ramp my husband said you could possibly just saw it in half and use a piano hinge or other hinges so it would fold up.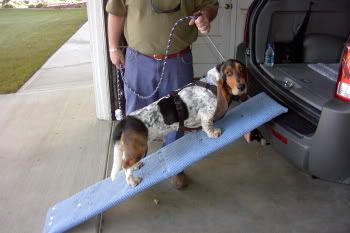 Bogie walking up the ramp.
Here is the ramp.
Backside of ramp.