Discussion Starter
·
#1
·
Blizzard warnings started yesterday and now have been extended until 6 AM tomorrow (Saturday) morning. It's gone from awful to worse than awful. Over 16 inches of snow since Thursday, and still snowing on and off today with 40 MPH winds. I-90 is closed from Chamberlain, SD to Albert Lee, MN. I-29 is closed from the ND border to the Missouri border. Everything is shut down totally. So far our power is still OK. It's the worst snow storm in ten years, 1997 was the last one like this. They are sending plows and huge snow blowing machines from the west side of the state to help the Mitchell area dig out. It's been worse here than in other areas.
Poor Bogie can't move outside. We are trying to keep him a potty path shoveled out, but the wind and snow keep filling it back up. This morning he tried to leap out of the shoveled path and totally disappeared into a drift. He bucked and lunged his way back to the path. We cracked up, I just wish we had the camera handy for that disappearing act. I thought you might like to see what our corner of the world looks like today.
7 AM view of back yard and the snow is coming down.
8 AM I opened the den door to the back porch to take some more pictures and had a wall of snow
that had packed against the den door.
8 AM Bogie is standing in his potty trail during a lull in the storm. The wind and snow keep filling it back in,
and we keep digging it back out.
11 AM today taken looking out out front door. Nothing like an old fashioned blizzard to make you wish for
those 90 degree sunny days.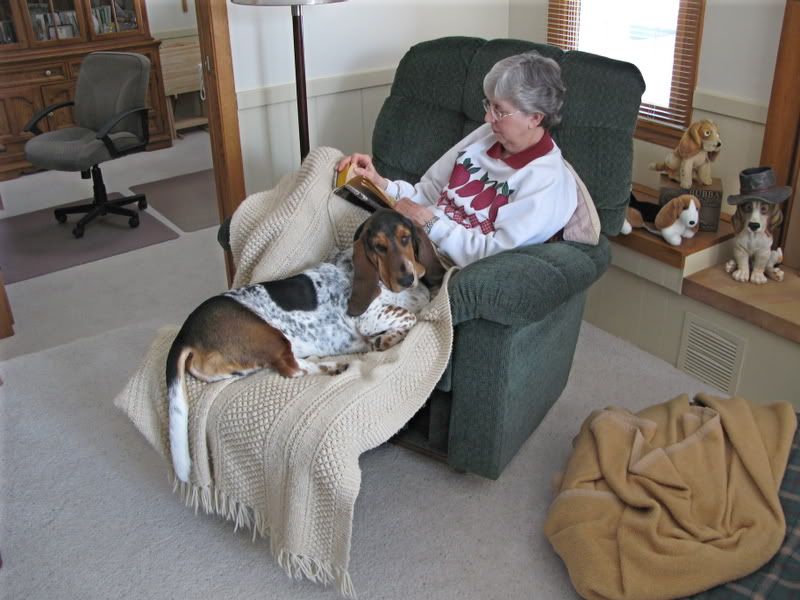 Bogie and I curled up with a good book for the afternoon. We aren't going anywhere that's for sure in this.