Discussion Starter
·
#1
·
That the Moose is on the Loose in Moose Jaw!!!! He and Bo tore up my back yard tonight, it was so funny.
We just LOVE him. He is so SWEET!!! I am in my glory, because he has an "EMMA"-type expresstion in his face. I am so damn happy!!!
IS HE CUTE, OR WHAT???
Another close up: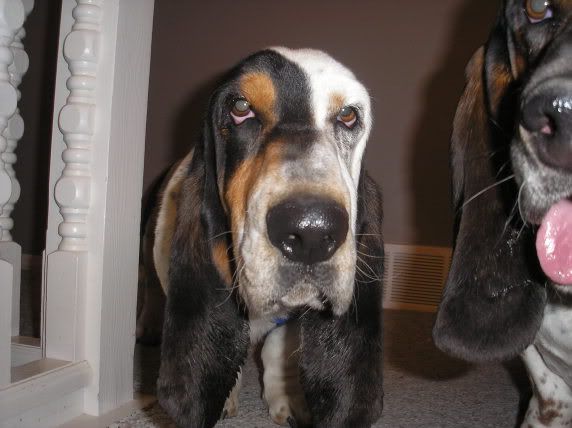 Thought I'd add my hubby's poem in here too, since he bought me the dog. Posted it before, but as a reply:
I bought you a gift on this special day
I hope it brings pleasure in so many ways
a dog of high standard, he is quite a hound
He looks quite solid, built low to the ground
His mane is Moose, and he's from far away
He'll soon be yours, and with us he'll stay
Now Bo will be happy, a brother a friend
they'll play together until the days end
Bo and Moose, the names of your hounds
In our back yard they will run around
Out in our yard, the things they will do...
So be quick with your shovel, and pick up the Poo!
From out of the Province Old Moose will arrive
hope the flight doesn't scare him, and he'll survive
Now once again your family's complete
two basset hounds with 8 paws for feet
Two dogs to cuddle and lay in your bed
They'll take up the space where I lay my head
The house they will make their doggie domain
They'll run in and out again and again
The pleasure they bring you, I hope it stays fast
For a basset hound lover, this might be the last
I hope this gift and this poem will bighten your way
and congratulations on this special day
Love, Keith
(Awwww...)