Discussion Starter
·
#1
·
I spent the morning with Summit Search and Rescue (
http://www.ssarbloodhounds.org/index.html
) helping with bloodhound training on the campus of our college.
Here is Sergeant Sam Shipley of the York County Sheriff's Dept. unloading Lou from the van. Lou is 18 months old and not officially working yet, although he's been out on alot of calls.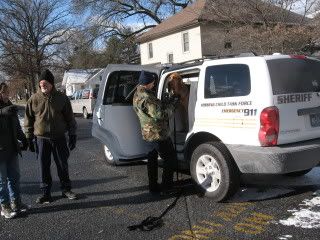 Here's Lou in his Sheriff's vest working. The dogs know that when the vest goes on, they're on the job.
Here's Lou taking a pause to catch the scent: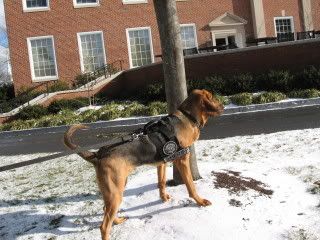 Here's Lou finding Jasmine- when the dog makes a find, he stands up on the person he's tracked, and gets verbal praise: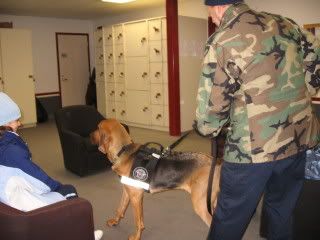 We froze- it's around zero this morning with the wind chill, but I loved every minute of it! These dedicated folks sometimes go out 3-4 times each week to help find lost children, Alzheimers patients who have wandered off, or drowning victims-
They train every month and always need volunteers to help- I know I'll be doing this again!
And of course, Murray went crazy when I came home with the scent of bloodhounds all over me- I think his feelings are hurt and he's been sulking since I came back!