all basset have elbow dysplasia it is actual called for in the breed standard
" Steepness in shoulder, fiddle fronts, and
elbows that are out, are serious faults. The forelegs are short, powerful, heavy in bone, with wrinkled skin. Knuckling over of the front legs is a disqualification. The paw is massive, very heavy with tough heavy pads, well rounded and with both feet inclined equally a trifle outward, balancing the width of the shoulders"
Turning out of the feet ie require a small degree of elbow incongruity hence elbow dysplasia. Many pet quality dogs are fiddle front with the feet turned out more than slightly. this is more dysplasic than the standard calls for however it rarely causes a problem in the basset. Second there are no studies showing that surgery to correct the problem lead to higher quality of life over more conservative care. There are no studies say the opposite as well. I always caution people to get third and fourth opinion before have this surgery done
from
Basset Hounds
In diagnosing the cause of a Basset's lameness, a radiograph of the forelimbs may indicate a condition called elbow incongruity. (Elbow incongruity is a poor fit between the 3 bones which comprise the elbow joint.) Studies to date indicate that elbow incongruity is normal in the Basset and is not the cause of the lameness. It is also suspected that many of the previously mentioned unnecessary (panosteitis) surgeries have been performed on Basset Pups just because radiographs that were taken showed elbow incongruity. A study on forelimb lameness in the Basset is currently underway at the School of Veterinary Medicine, University of Pennsylvania. As previously mentioned they have determined that elbow incongruity occurs in the Basset but suspect that incongruity rarely causes the lameness. During the course of the study, conservative therapy will be recommended for all cases in which panosteitis appears to be the cause of the lameness. In cases with severe growth deformities or elbow pain associated with elbow incongruity, surgery may be recommended. If your Basset develops lameness and is diagnosed with an "elbow problem", discuss with your veterinarian the possibility of panosteitis.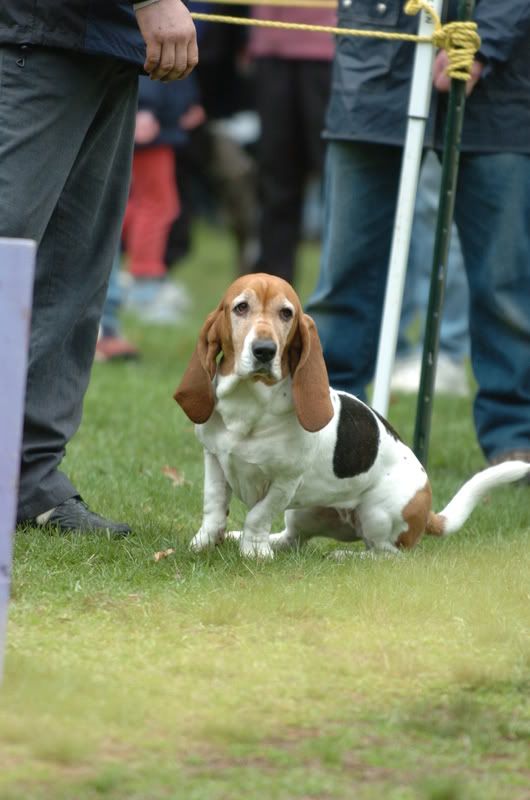 Mariah about as fiddle=fronted as you can get with east/west pointing feet never bothered hers see video below for proof from the same day as pictures
http://vid32.photobucket.com/albums/d33/toughynutter/Mariah/ace2008standard.mp4