Discussion Starter
·
#1
·
I'm sure you guys have addressed this issue a hundred times, so forgive me - I'm new and I'm unfamiliar with the breed. I grew up with beagles and now mostly foster bully breeds.
I picked up a bassett mix foster puppy at animal control yesterday. He's been there for a month, living in a crate (full of his own poo and pee, evidently, as he was covered in it), and he's now about 12 weeks old. And he's a big fat fatty. How they ever allowed this little guy to get so fat is beyond me. (And yes, he's been dewormed twice.)
His front feet have me very worried. He does not walk up on his toes, like I'm used to. Instead, his front feet flatten out and he seems to walk on the "heels" of his hands. I've seen this in a senior, obese dog, but never in a baby. Is this a normal stage for a bassett puppy? Will he grow out of it, perhaps? Nutritional issue? Should he be splinted? Surgery???
The other problem I'm seeing is this: I don't know if this is because he's so fat, or if it's a congenital defect, but his little peepee has gone turtle. It looks like it's been sucked into his body. The first time I saw him, someone was holding him, and I actually thought he was female and had an umbilical hernia. Because it doesn't protrude, I think urine is staying on the skin and irritating him - it's red and swollen. Any thoughts on that? Obesity or birth defect????
He's going to the vet on Monday for his neuter (given that his upper respiratory infection is gone - poor kid's a hot mess), and of course I'll have them look at all of those things, but if someone calls about him on the weekend, I'd like to be able to give them as much info as possible.
Here he is:
And he needs a name.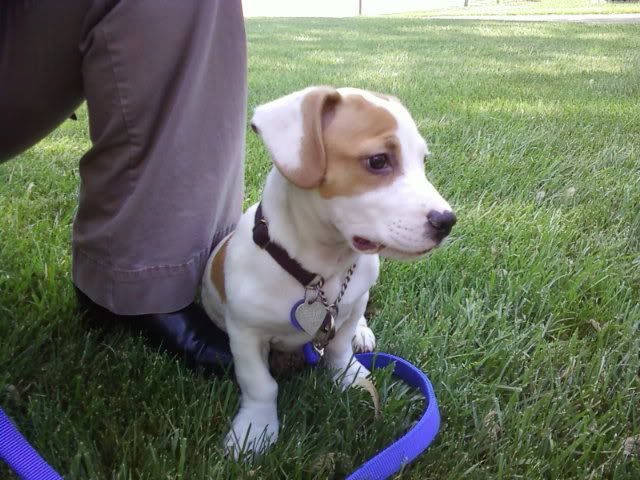 Poor little guy was completely wiped out last night. A new home, a bath, a 90 pound bulldog to pay with...