Discussion Starter
·
#1
·
We joined the forum a couple of months ago, but so far the only thing I've had time to post is a plea for advice. I wanted to post a much delayed THANK YOU to all who responded and for the information provided on canine epilepsy. We've gotten Buddy's medication figured out and he's doing wonderfully (no seizures in almost a month!). Daphne loves the medication too since they both get treats every time Buddy swallows his pills without a problem.
So now that things have calmed down the three of us wanted to pop in to say "Hello." My name is Heather and I'm Buddy (4 1/2 years old & in front) & Daphne's (4 years old & curled up on the pillow) mommy.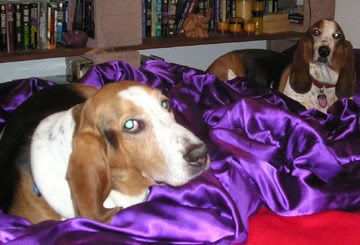 We're all enjoying this nice cool fall weather and are looking forward to meeting you all.