Discussion Starter
·
#1
·
Some of you know I volunteer for House of Puddles in Maryland, the senior basset hound sanctuary (
www.houseofpuddles.org
). Marilyn took a new girl in a few weeks ago, April. April was rescued from a hoarder and transported up to HOP. If you get the DD emails, you might remember her story:
April's Story
with permission from Susan Intessimone of Bluegrass Basset Rescue:
I was very very scared. The woman who throws food to us signed a paper and they took us (well, half of us, and that was 22) to a building with lots of barking dogs. I stayed with my terrier friend but we were both so scared we pooped all over our crate. They put us in a storage closet because the building was full and a lady said to one of the workers, "I'll put in a call to basset rescue." Then the next morning they tried to pull me out of the crate because there was a lady there with a little girl and they said they needed to take my picture. Is it for a wanted posted? Would someone really want me? I wouldn't budge so the lady with the camera got down on the floor and took my picture anyway. She called me something--April. The terrier said it was called a name. I've never had a name before. Then she was gone and the days passed.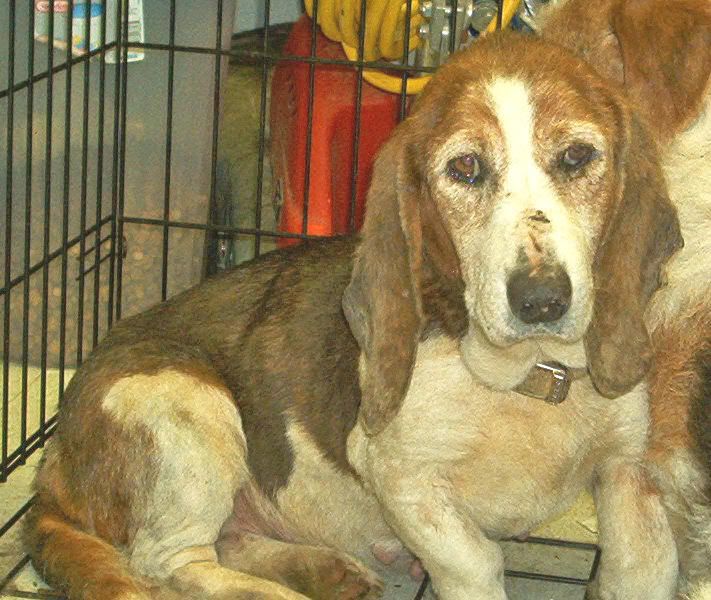 Today she came back! She carried me out to her car and told me I would never worry about anything else again. I would never have babies that I would never see again. I would never live in filth again. She said I was going home, but I had to come to her house first. There were lots of dogs there but she carried me past them up to a place where water comes out of the wall. She said I was getting a bath. I didn't know what that was and I was very scared. She held onto my collar even though it was so crusted with poop she gagged and slowly I felt something warm wash over me. I relaxed. It felt so nice. I stayed in there for 15 minutes, getting all kinds of soap scrubbed into my crusty coat. I leaned up against the side of the bathtub and closed my eyes. The lady kept saying I was a good girl. She wrapped me in warm towels and carried me back downstairs to a crate. She said I'd get to see the doctor later today.
It was so much better than I could have imagined. Is this what love is? Does someone really love me now?
I look forward to April's arrival at House of Puddles on 4/24. She'll be hitching a ride with Kay Jordan & George E. Grunt on their way to the Boardwaddle.
Anyway . . .
Once April arrived, Marilyn didn't see a spay scar and it's obvious she'd had a lot of puppies, so Marilyn was going to have her examined to see if she was a good candidate for spay or just too old. April saw the vet as soon as she got to HOP but no one noticed . . .
She is PREGNANT!!! And about to give birth ANY DAY!!!!!!!!!
OMG!!!!!!!!!!!!!!!!!!!!!!
Want to help? We are hosting a raffle. $1 a chance and the winner can name the buppies!
http://www.firstgiving.com/hop-houseofpuddles
Marilyn also set up a live webcam of April in her whelping pen:
http://www.ustream.tv/channel/buppycam
If you want to join in the chat, be sure to sign up for a free ustream.tv account.
Please pray and drool for April - we are very scared for her. She is too old to be going through this.