Our House Guest
---
Bogie is a happy camper. This weekend we are keeping Sunny, our daughter's eight year old Greyhound. They are good buddies and get along great. They rescued Sunny five years ago from the Tulsa, Oklahoma Greyhound Track . She is a real sweetheart. It's really funny to watch Bogie walk under her.
Sunny at Christmas at our home. She loves her squeeky toys.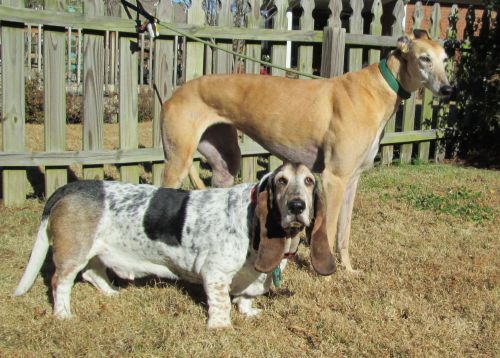 I took this outside one today.
__________________
You don't own a Basset, a Basset owns you!!
Aroooooos from Bogie !! - Trumbull's Who's Teasin Bogart CGC- Born April 21, 2005 - Jan. 20, 2017
ATB: Bubba - (Trumbull's Surley It's Stormin Norman) Sept. 8, 1998 - Dec. 20, 2005