Join in with your Howliday Greetings and Howliday Pictures
---
We have had a Christmas card exchange in the past, but with the cost of postage and no one to get it going this year that hasn't happened.
So I thought I would start a thread of holiday greetings and pictures of our hounds taken at Christmas. If you want to wish others a "Happy Howliday" or post a Christmas favorite of your hound please join in.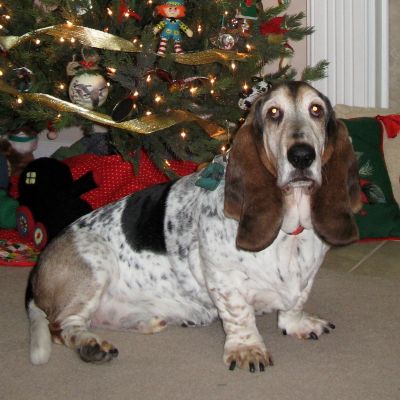 "Merry Christmas"
Bogie is my frosty faced seven year old fur kid. He will pose all day
long for cheese!!!
__________________
You don't own a Basset, a Basset owns you!!
Aroooooos from Bogie !! - Trumbull's Who's Teasin Bogart CGC- Born April 21, 2005 - Jan. 20, 2017
ATB: Bubba - (Trumbull's Surley It's Stormin Norman) Sept. 8, 1998 - Dec. 20, 2005