Thank you!!
---
I just wanted to say "Thank you" to everyone that voted for our RV Bridal Veil Falls picture in the calendar contest on Face Book . I really appreciate your taking the time to do this for us.
Bogie does love his "traveling machine" and getting to sniff in all the new places we go. He rides in his bed on top of the lowered table in the u-shaped lounge area. We use a traveling harness and seat belt to secure him. He can stand, see out the windshield, and snooze while we travel. In the picture he popped up to see why we had stopped. We call this "Are we there yet?" pose.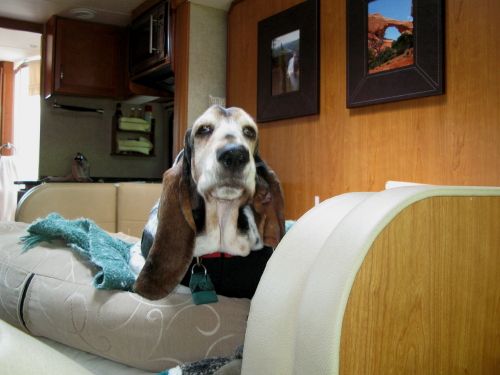 If you didn't get to vote and would like to here is the link:
https://www.facebook.com/ltveee/app_139067262889625
Thanks!!
__________________
You don't own a Basset, a Basset owns you!!
Aroooooos from Bogie !! - Trumbull's Who's Teasin Bogart CGC- Born April 21, 2005 - Jan. 20, 2017
ATB: Bubba - (Trumbull's Surley It's Stormin Norman) Sept. 8, 1998 - Dec. 20, 2005