---
We use the Sporn simple control harness for walking Bogie. It is like a figure 8, with a loop that comes up through a ring on the back that you attach the leash to. It tightens and loosens as needed. It has fleece wrapped sleeves that slide on the harness one under the belly and one around the chest.
Sporn Simple Control Harness: The Sporn Company
It does not rub him under the armpits, gives us good control without pulling on his neck. He has a bad disk in his neck and the vet told us to not use a collar any longer. We have tried several types of harnesses, and we love this one.
I don't have a pic. of Bogie wearing his but here is one from the Sporn website.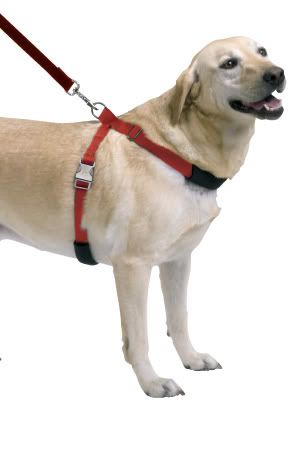 __________________
You don't own a Basset, a Basset owns you!!
Aroooooos from Bogie !! - Trumbull's Who's Teasin Bogart CGC- Born April 21, 2005 - Jan. 20, 2017
ATB: Bubba - (Trumbull's Surley It's Stormin Norman) Sept. 8, 1998 - Dec. 20, 2005