I am assuming that by dislocation that daisymae dislocated the pettela (knee cap)
FWIW Zephyr's surgery was at first exploratory cuz nothing showed up on the xrays. The cause of her problem was streching the digital flexor tendon. It runs through a notch in the knee. It cause inflamation around the knee even though the tendon runs from above the knee down to the foot.
Given that soft tissue injuries especially tendons and ligaments heal much more slowly than bone, she was in a hard cast for 3 weeks and progessively softer immobilizing wraps for an additional 9 weeks. With the cast from thigh to completely covering the foot the only way she could move at all was extending the leg behind her and walk on three legs with a towel wrapped around her abdomin so a human could grab both end to help support her rear end.
btw DaisyMae looks a lot like Zephyr. From what I can tell niether have a white tip on the tail.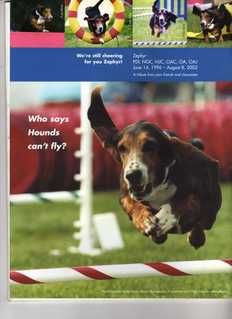 add from clean run magazine
PS all photos taken after the surgery.
[ February 24, 2006, 10:21 PM: Message edited by: Mikey T ]